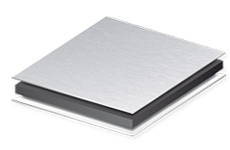 ALUCOBOND® is the "Original" and has been the market leader in aluminium composite panels world-wide since 1969.
ALUCOBOND® shows excellent product properties such as extraordinary flatness, a large variety of colours and perfect formability. It has been developed as a rigid and, at the same time, flexible fascia material for architecture. ALUCOBOND® is extremely weatherproof, impact-resistant and break-proof, vibration-damping, and ensures easy and fast installation.
As a light composite material consisting of two aluminium cover sheets and a plastic core, the versatile ALUCOBOND® product is a material also preferred in areas other than architecture, such as corporate design, and is widely used in industry and transportation.
Numerous international prizes have been awarded for this successful product. With more than 130 million sq.m of ALUCOBOND® sold, it has proved to be one of the most successful materials world-wide delivering soffit solutions across Asia and the Middle East.
Overlacquering of stove-lacquered ALUCORE surfaces of polyester lacquer quality (panels not exposed to weather conditions)
Aluminium treatment and priming carried out at the factory in a continuous process with continuous quality control is advantageous to the overlacquering of the stove-lacquered ALUCORE® surface.
ALUCORE® overlacquering procedure:
Pre-cleaning of the panels using methylated spirit
Grinding the surfaces with wet abrasive paper (grain size 360)
Removing grinding dust with a lintfree cloth moistened with spirit
For the top coat, please follow the instructions of the top coat supplier
Please note:
The maximum permissible temperature of the material (ALUCORE® panels) must not exceed 70°C when applying fast-drying methods. During the drying process at high temperatures theALUCORE® panels must be positioned or stored with great care to prevent deforming.
ALUCORE® cut edges should not be in contact with organic solvents for a prolonged period of time to avoid weakening the bond.
ALUCORE® panels lacquered or overlacquered at a later stage should not be bent or folded. The lacquer in the bends or folds may be damaged due to the low elasticity of the top coat.
Please make a test prior to overlacquering and follow the instructions of the lacquer suppliers.
Lacquering of mill-finished ALUCORE® surfaces
The composition of lacquer coating for ALUCORE® is basically the same as those for mill-finished aluminium surfaces. It is advisable to be familiar with coating systems and materials as well as working methods for aluminium.