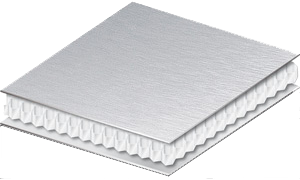 ALUCORE® is an innovative aluminium composite panel consisting of two aluminium cover sheets and a honeycomb core of aluminium.
Boasting the globally recognised ALUCOBOND® trademark, ALUCORE® is also a composite material that can be used for a wide variety of applications from the transport industry to architecture, and has fantastic properties such as extraordinary flatness, a large variety of colours, and high formability.
The product's aluminium honeycomb core gives the composite panel a high rigidity and an extremely low weight. ALUCORE® therefore has a definite advantage when it comes to projects with high demands on material stiffness – such as façade cladding or roofing where it will be exposed to an extremely high wind load, or for large self-supporting roofs.
ALUCORE® – the first lightweight panel that is a bond for life!