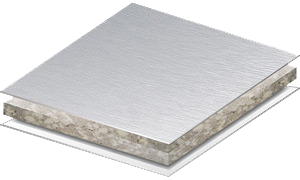 ACROSS THE WORLD, ALUCOBOND® A2 is the only non-combustible aluminum composite panel used in architecture.
Due to its non-combustible core, this fantastic product meets stringent fire regulations and hugely increases the possibilities when it comes to creative building design.
As with all ALUCOBOND® products, ALUCOBOND® A2 allows for simple processing, is impact-resistant, break-proof, and weatherproof – and above all non-combustible.