Urban lifestyle appeals to us. Urban life is characterised by interplays of light and shadows, transparency and colour. The choice of colour is getting more and more important within the urban context – the wish to shape its own living space lies in the nature of mankind. Especially the interaction of glossy and mat surfaces is part of urbanity. Within this context the new colour series ALUCOBOND® urban was developed: muted, extremely mat surfaces provide open space for design – be it detached or in combination with glossy surfaces and glass – the mat colours of ALUCOBOND® urban support the urban character of the building.





Colour Chart
ALUCOBOND® urban
Download our new ALUCOBOND® urban colour charts as PDF-file.
Download as PDF [823 KB]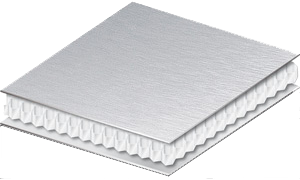 ALUCORE® is an aluminium composite panel consisting of two cover sheets and a honeycomb core of aluminium.
Following in the footsteps of the world-wide established ALUCOBOND® trademark, ALUCORE® is also a composite material for a variety of applications in transport and industry or architecture, showing excellent product properties such as extraordinary flatness, large variety of colours and high formability.
The aluminium honeycomb core gives the composite panel a high rigidity and an extremely low weight. ALUCORE® therefore provides the decisive advantage where very high demands are made on the material for applications such as façade cladding or roofing, e.g. if exposed to extremely high wind load and for large self-supporting roofs.
ALUCORE® is the first lightweight panel that you, too, will absolutely insist as being: a bond for life.