Swathed in a mellow sheen
Stone and crystal stand for endurance, authenticity and intrinsic value. They reflect light in a magical, vibrant way and their texture is unexpectedly varied: ranging from rough to smooth. ALUCOBOND® terra is inspired by iridescent stone. The décor's surface refracts the daylight creating a matt sheen and lustrous hues, sometimes elegant and sometimes earthy.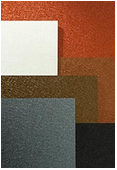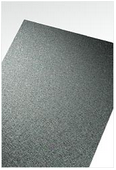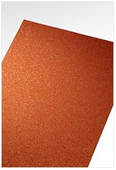 ALUCOBOND® terra unites the typical crystalline surface and velvety feel found in natural stone with many of the advantages of ALUCOBOND® composite panels. Unlike most natural stone, ALUCOBOND® composite panels are both very thin and light, but offer at the same time a high level of flexural and tensile strength. Large format panels can be easily and accurately fabricated, processed, transported, installed, and, in addition, three-dimensionally shaped by using folding and roll bending techniques. Unlike many stone surfaces, ALUCOBOND® terra is also weatherresistant and colour fast.
 terra GLACIAL



terra ANTIQUE


Colour Chart
ALUCOBOND® terra
Download our new ALUCOBOND® terra colour charts as PDF-file.
Download as PDF [446 KB]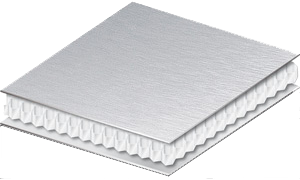 ALUCORE® is an aluminium composite panel consisting of two cover sheets and a honeycomb core of aluminium.
Following in the footsteps of the world-wide established ALUCOBOND® trademark, ALUCORE® is also a composite material for a variety of applications in transport and industry or architecture, showing excellent product properties such as extraordinary flatness, large variety of colours and high formability.
The aluminium honeycomb core gives the composite panel a high rigidity and an extremely low weight. ALUCORE® therefore provides the decisive advantage where very high demands are made on the material for applications such as façade cladding or roofing, e.g. if exposed to extremely high wind load and for large self-supporting roofs.
ALUCORE® is the first lightweight panel that you, too, will absolutely insist as being: a bond for life.