ALUCOBOND® design is the new surface generation for the well-known ALUCOBOND aluminium composite panels. Individual décor surfaces offer manifold possibilities for unique architectural expression and design freedom. Individual decors can be realized according to customer's specifications. With a high flexibility and quick realization time, individual decors are available in small lot sizes already. If desired, the effect on the building can also be displayed by means of installation simulations.
Additionally, an exemplary design collection has been created in corporation with a design studio that shows the range of possibilities with ALUCOBOND® design in different surface categories:
Art / fashion, 3D effect, stone / natura, carbon, concrete or wood design.
The decors accentuate various indoor and outdoor applications like façades, foyers or lobbies by adding a 3D effect and additional colour depth. Moreover, the use of high quality lacquer systems guarantees high durability.
Compared to other materials, ALUCOBOND® aluminium composite panels can easily be routed, folded and bended which gives architects even more design freedom with regard to forms and shapes.


3D Effect



Art / Fashion




Stone / Natura



Concrete

Carbon


Others




For exact colour matching, please request the original colour shades.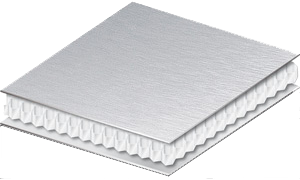 ALUCORE® is an aluminium composite panel consisting of two cover sheets and a honeycomb core of aluminium.
Following in the footsteps of the world-wide established ALUCOBOND® trademark, ALUCORE® is also a composite material for a variety of applications in transport and industry or architecture, showing excellent product properties such as extraordinary flatness, large variety of colours and high formability.
The aluminium honeycomb core gives the composite panel a high rigidity and an extremely low weight. ALUCORE® therefore provides the decisive advantage where very high demands are made on the material for applications such as façade cladding or roofing, e.g. if exposed to extremely high wind load and for large self-supporting roofs.
ALUCORE® is the first lightweight panel that you, too, will absolutely insist as being: a bond for life.