PT Grand Indonesia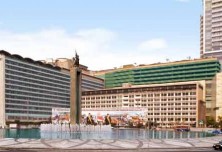 | | |
| --- | --- |
| Architect | PT Anggara Architeam |
| Completed | 2009 |
| Product | ALUCOBOND® |
A COMPLEX AHEAD OF ITS TIME
Grand Indonesia is a massive mixed-use complex that comprises a shopping town,
­hotel (Hotel Indonesia Kempinski), serviced apartments (­Kempinski Residences) and
a premium-grade office building (Menara BCA).
The latter is set to lay claim as Jakarta's tallest premium grade office building,
while the Shopping Town, which consists of two blocks spread out over more than 250 000 m²,
is linked to the 57-storey Kempinski Residences and Hotel.
ALUCOBOND® was used for the facade cladding of the entire complex including the
multi-storey car parks. In all, a total of 147 300 m² of ALUCOBOND®
composite panels in both standard and spectra colours were specified for this project.
Apart from applications such as spandrel cladding of the curtain
the material was used in a vast array of different applications such as columns,
roofing, sunscreens and walkways among others. ALUCOBOND®
also allowed the architect to realise new ways of displaying dynamic and interactive
content such as media facades. "With the support of the architect and fabricator,
we are delighted at how ALUCOBOND®
allowed us to realise our goal of making this project an iconic one,"
said the owner of PT Grand Indonesia. Not only does the complex posses the greatest
aesthetic qualities, it is also far ahead of its time and its versatility allows it to
be used in a vast array of different applications.
Part of the complex has been operational since 2007,
with the whole complex slated for completion in 2009.