Les Portes de la Défense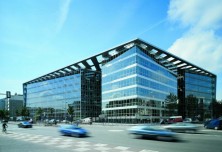 | | |
| --- | --- |
| Architect | Skidmore, Owings & Merrill, New York, MAS et Roux, Paris |
| Completed | 2001 |
| Product | ALUCOBOND® ALUCORE® |
THE CANOPY OF AN OFFICE BUILDING
The building of "Portes de La Défense" in Colombes, is lying nearby the business quarters La Défense in Paris. The design was allocated by the American Institute for Architecture of the State of New York.
Three basements and eight upper floors were established in a trapezoid form around the inner court. The two main fronts loosened up by recesses, are characteristic. These niches are enframing the main building, which is connected with the second complex by vitreous passenger-gangways, and create an image of diverging and simultaneously conjoining. The architectural unit of the building is guaranteed by the monumental cantilever roof. Straight, horizontal lines follow faithfully the sketch whereby the variable depth of the structure arises the attraction. "Although waterproof, this object does not have a function as roof", interprets François Roux, one of the architects. The scooped out ranges and the grid of the façade run radially from a centre somewhere in the inner court.
ALUCORE®, light and strong was selected for this oversized peaked cap due to its outstanding processing possibilities. The invisible attachment permits a right-angled continuation of the lines of the roof into the two main fronts, lightning up in an interaction of glass and ALUCOBOND®. The outside elegance but also high-quality service equipment are featuring this building.