Grange City Hotel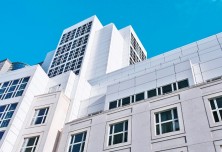 | | |
| --- | --- |
| Architect | Buchanan Associates, London |
| Completed | 2005 |
| Product | ALUCOBOND® White 10 |
MODERN NEIGHBOURHOOD TO THE TOWER OF LONDON
Staying at the new, luxury Grange City Hotel standing right next to The Tower of London gives visitors a real taste of the new and old London.
It is a flagship of Grange Hotels, who already run eight luxury hotels in central London. The potential of the former office building was identified in 1999, followed by the feasibility studies of the architects. Planning permission was received in May 2000, Construction started in late 2000. The existing 12 storey building was stripped back to its basic structure and extended both at high level for bedrooms and podium level for a new restaurant and conference centre. Buchanan Associates decided to use white ALUCOBOND® to clad the upper levels of the building. The choice of cladding material is important for any project but even more for this project with its prominent position and such a famous architectural neighbour. Architect Dean Buchanan said: We had used ALUCOBOND® on two previous developments for Grange Hotels and being very satisfied with the results, we decided to use the same tried and tested material again. We knew we would get a very flat and crisp appearance, and that was particularly important as we were combining theALUCOBOND® with high quality Portland stone and polished granite. Laser Claddings' Stuart Davis added: The successful completion of this prestigious cladding project was due very much to the close relationship we have with the architect, client and Alcan Composites.
The first phase of the work was completed and the hotel opened, in May 2002. The extension also clad inALUCOBOND®, was completed in September 2005.