Forum AutoVision Wolfsburg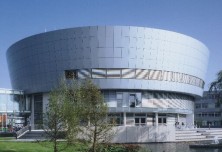 | | |
| --- | --- |
| Architect | Koller & Partner Architekten BDA, Wolfsburg |
| Completed | 2001 |
| Product | ALUCOBOND® A2 |
NEW VISIONS
The Wolfsburg AG, a joint venture of Volkswagen AG and the city of Wolfsburg, has created quite a sensation in Germany with its futuristic building project "Forum AutoVision" in Wolfsburg.
The ambitious aim is to link and bundle complementary business and non-business activities on a regional basis, by means of so-called clustering as in Silicon Valley, California to encourage automotive specialists and suppliers to set up in business right next to the Volkswagen plant. In the "SE-Zentrum" (Simultaneous Engineering Centre) members of Volkswagen staff and suppliers are working together to develop modern automotive systems.
Another building, the "Innovations Campus", offers new companies an optimal climate in which to put their ideas into practice. Both buildings are connected to the central circular atrium by glass walkways. The atrium's second floor in particular, is girded by an imposing ALUCOBOND® A2 "collar". The trapeze-shapedALUCOBOND® casing, in a grey-blue shimmering metallic tone, underlines the airy quality of the whole construction. Both shape and colour are perfectly in tune with the project, and in line with the philosophy of Forum AutoVision, ALUCOBOND® becomes the link, connecting the materials steel and glass with one another. So in one sense, the Forum AutoVision is at the same time "Forum AluVision".