W.A. Maritime Museum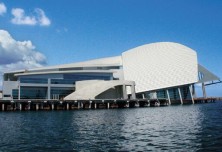 | | |
| --- | --- |
| Architect | Cox Howlett + Bailey Woodland Perth, Western Australia |
| Completed | 2002 |
| Product | ALUCOBOND® |
THE BOAT ON THE PROMONTORY
In 1829 when Captain Fremantle first stepped onto the pristine sands of the promontory known as Forrest Landing, little did he realise that 173 years later the same site would be the home of the new Western Australian Maritime Museum. This unique and spectacular building of international standard is located in historic Fremantle, some 30 km South of Perth.
Project Architect Steve Woodland explained: "Our vision for the new museum is one of a uniquely crafted building, visibly borne out of maritime forms and construction. The building draws inspiration from Western Australia's rich maritime heritage and from its unique setting on a site of historic significance within a working port. It will provide exhibition space, leisure facilities, offices and workshops to expand and compliment existing museum facilities. "
The strongest visible element of the building is the 30 m high uniquely curved roof over the main hall. It has been designed to accommodate full size boats of historical importance, including the America's Cup winner 'Australia II' complete with mast and her famous winged keel. Its shape consists of compound curves of gradually changing radii. Supported by massive laminated timber portal frames, the roof is clad with more than 3,500 m2 of 6 millimetre thick white ALUCOBOND® in horizontal strips up to 6,8 metre long. Each strip overlaps the one directly below it in an exaggerated shiplapped manner designed to create the effect of an upturned clinkered hull.
To achieve this watertight structure in the complex curved shape and of shiplap appearance a secondary roof was needed. Over this ALUCOBOND® was installed as a ventilated rain screen. Due to the severe marine environment special care had to be taken to select only corrosion resistant material.
The conventional profiled roof cladding was fixed to 'C' purlins attached to the large laminated timber portal frames. Vertical 'T' sections curved to follow the shape of the roof were installed at 900 mm centres. Horizontally fixed to these were purpose designed aluminium carrier rails free formed insitu and designed to accept the top edge of each ALUCOBOND® panel. The ALUCOBOND® panel was also free formed and fixed to the carrier rail using 3M VHB double sided tape and large flange pop rivets.
Steve Woodland said: "A complex curved form and the aesthetic requirements for a ship lap texture made the choice of material and appropriate detailing interesting. Maintenance access and self cleaning properties were important considerations. As designers, we are always keen to look at new ways of achieving architectural expression. In this project, we were able to achieve a new dimension by using a reliable product like ALUCOBOND®. " Additional 2,500 m2 of 4 mm thick ALUCOBOND® in Sunrise Silvermetallic colour were installed as a conventional watertight cassette panel cladding system to other parts of the building. Installation of the panels commenced at the top of the roof in August 2001 and was completed in January 2002. The museum will be officially opened in November 2002. It will not only provide Western Australia with a world class maritime museum but also with an amazing architectural icon like Sydney's Harbour Bridge or Opera House.