U.S. Xpress Headquarters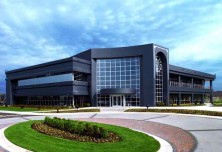 | | |
| --- | --- |
| Architect | SSOE, Inc. |
| Completed | 2006 |
| Product | ALUCOBOND®, 4 mm |
DESIGN VISION CONTINUES AT U.S. XPRESS
In the mid-90's, U.S. Xpress of Chattanooga, Tennessee and SSOE, Inc., architects and engineers, spent three days developing a vision for a new U.S. Xpress headquarters building, which was completed before the end of the decade.
That vision allowed for expansion, now realized with the spring 2006 completion of an adjacent corporate campus and the first of four "companion" buildings.
"The client wanted a statement about U.S. Xpress that would convey to the world in physical form the goals and aspirations of the organization, said David S. Verner, AIA, Vice President of SSOE, who served as project architect and manager. "We studied the look that we wanted to achieve and many different materials. In the end, we decided that ­ALUCOBOND® was the best material for the job. ­ALUCOBOND®Material helped to provide that 'high-tech' image."
For the headquarters building, ­ALUCOBOND® Material was part of a three-story, cantilevered triangular form, designed to maximize the potential of an L-shaped lot. The building was designed without a designated front or rear, and each side reveals a different look. The recently-completed companion building utilizes matching ­ALUCOBOND® Material in a design by SSOE that is compatible with the headquarters building. "The intent of the companion building design is to use the same architectural language as the headquarters, yet in a unique and different way. The building uses simple rectangular forms to create a dynamic façade that, like the headquarters, is different at every turn," added Verner.