Suzhou Sports Centre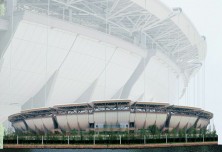 | | |
| --- | --- |
| Architect | Atelier D'Architecture FredericRolland, France |
| Completed | 2001 |
| Product | ALUCOBOND® |
MODERN CHARM TO A HISTORIC CITY
Suzhou, an ancient city with at least 2,500 years history that has been affectionately called "Paradise on Earth" by poets, is famous for its well-maintained beautiful indoor gardens and mild climate. Situated approximately 100 km from Shanghai, it is a ‹must-see› tourist destination. While maintaining its old-world charm, it is also developing into an industrial city, with large-scale manufacturing, research and development facilities set up by well known multi-national companies in the city's suburbs. The city attracts a population of nearly 6 million. To cater for this large population and its increasingly modern lifestyle, a modern structure in the form of an outdoor stadium was erected.
Its built up area is 42,627 m2. With its unique bowl shape clad with ALUCOBOND®, the Suzhou Sports Centre blends into the surroundings, while providing leisure amenities to Suzhou's residents. The architect is Atelier D'Architecture Frederic Rolland from France.
15,000 m² of ALUCOBOND® were used to clad the exterior curvature of the bowl shaped stadium, and the suspended ceiling of the interior above the seating terraces.
Shenyang Yuanda Aluminum Industry Engineering Co. Ltd. , Shanghai undertook the design, fabrication and installation of the ALUCOBOND® cladding work. The panels taper from top to the base of the bowl and are curved in both longitudal and latitudal directions. It was a major challenge for the material and the technical capabilities of the fabricators. A tray panel system with concealed screw mounts was used forALUCOBOND® cladding. Gaskets were used to conceal the joints. This system ensures the long-term cleanliness of the cladding. A top official of the China Sport Bureau described this project as "the most beautiful stadium he has seen in China".