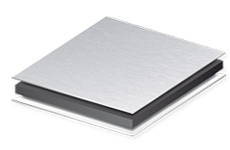 ALUCOBOND® is the "Original" and has been the market leader in aluminium composite panels world-wide since 1969.
ALUCOBOND® shows excellent product properties such as extraordinary flatness, a large variety of colours and perfect formability. It has been developed as a rigid and, at the same time, flexible fascia material for architecture. ALUCOBOND® is extremely weatherproof, impact-resistant and break-proof, vibration-damping, and ensures easy and fast installation.
As a light composite material consisting of two aluminium cover sheets and a plastic core, the versatile ALUCOBOND® product is a material also preferred in areas other than architecture, such as corporate design, and is widely used in industry and transportation.
Numerous international prizes have been awarded for this successful product. With more than 130 million sq.m of ALUCOBOND® sold, it has proved to be one of the most successful materials world-wide delivering soffit solutions across Asia and the Middle East.
ALUCORE® can be cut with a vertical panel saw, circular or jig saw.
Carbide tipped (CT) saw blades
Blade geometry
Tooth thickness approx. 2 – 4 mm, tapered to the inside to prevent jamming
Tooth geometry
Trapezoid tooth / flat tooth
Pitch t
10 – 12 mm
Clearance angle α
15°
Rake angle γ
10° positive
Maximum cutting speed v
5000 m/min
Maximum feed s
30 m/min

Carbide tipped (CT) saw blades for HOLZ-HER and Striebig circular panel saws.
Trapezoid/flat tooth saw blade, flat teeth 45° chamfered for burr-free edges.
Saw blade-ø
D = 300 mm (for Striebig vertical panel saw Standard II)
Number of teeth
t = 72
LEUCO Code No. 18 17 24
Saw blade-ø
D = 250 mm
(for Holz-Her vertical panel saw 1255 ALUCORE®)
Number of teeth
t = 60
LEUCO Code No. 18 17 26
Bore ø
D = 30 mm
Tooth thickness
3.2 mm
Clearance angle α
15°
Rake angle γ
10 ° positive