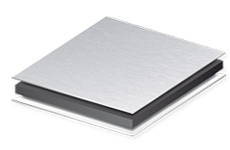 ALUCOBOND® is the "Original" and has been the market leader in aluminium composite panels world-wide since 1969.
ALUCOBOND® shows excellent product properties such as extraordinary flatness, a large variety of colours and perfect formability. It has been developed as a rigid and, at the same time, flexible fascia material for architecture. ALUCOBOND® is extremely weatherproof, impact-resistant and break-proof, vibration-damping, and ensures easy and fast installation.
As a light composite material consisting of two aluminium cover sheets and a plastic core, the versatile ALUCOBOND® product is a material also preferred in areas other than architecture, such as corporate design, and is widely used in industry and transportation.
Numerous international prizes have been awarded for this successful product. With more than 130 million sq.m of ALUCOBOND® sold, it has proved to be one of the most successful materials world-wide delivering soffit solutions across Asia and the Middle East.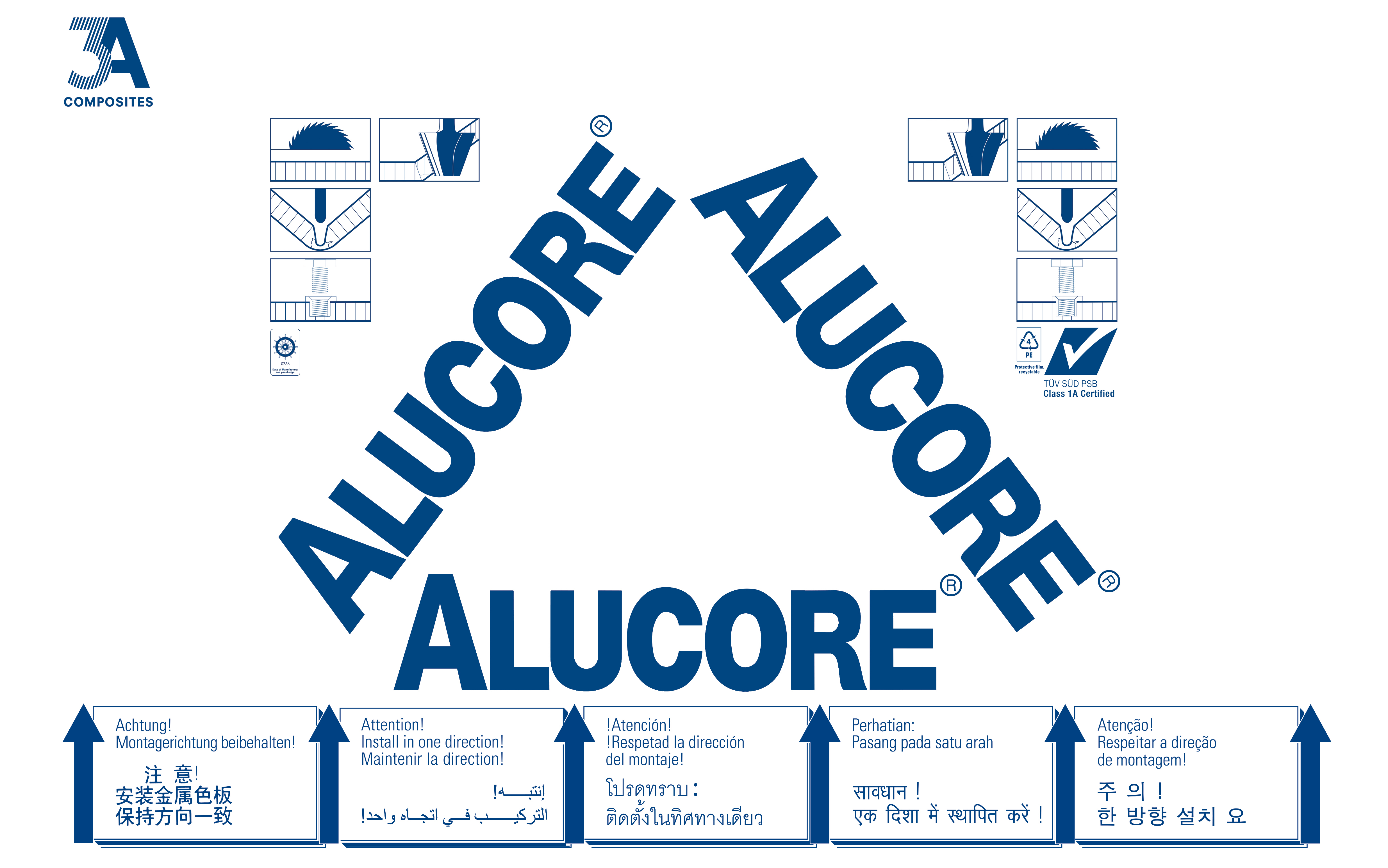 To avoid possible reflection differences (for metallic colours only), we recommend installing the panels in the direction of the marking shown on the protective foil of the individual panels.
Due to the production process, a displacement of the cover sheets of max. 2 mm to one side may occur along the longer sides of the panels.

| | | |
| --- | --- | --- |
| Thickness | | ±0.2 mm |
| Width | | -0 / +2 mm |
| Lengths | 1000 – 4000 mm | -0 / +4 mm |
| Lengths | 4001 – 9000 mm | -0 / +6 mm |
Protective foil
To avoid residuals of glue sticking to the surface of the panels due to UV radiation, it is recommended to remove the protective foil as soon as possible after the installation.
The protective foils and the panel surfaces must not be marked using ink (marker), adhesive tapes or stickers, as the lacquered surfaces could be damaged by solvents or plasticizers.
Make sure to remove the protective foil as soon as possible after installation as weathering for a longer period could make the foil difficult to remove.
Cleaning and maintenance
The frequency of cleaning depends on the design and the degree of soiling. For further information, please refer to our brochure ALUCOBOND® Processing
PDF [4.23 MB]
Storage / Handling
Protect ALUCORE® pallets during storage against rain, penetration of moisture and condensation.
Only pallets of identical size should be stacked, with a maximum of 6 pallets stacked on top of each other.
The stacking height per pallet should not exceed 2 m.
Storage exceeding 6 months should be avoided, as it may become difficult to remove the protective foil.
When stacking the panels nothing should be placed in between them, as this could produce marks on the panels.