ALUCOBOND® is a composite panel consisting of two aluminium cover sheets and a plastic core. The superb properties of this material boost one's inspiration and offer architecture a whole new range of solutions – whether your project is a residential or public building, a corporate headquarter, an office building, a trading or industrial complex – or if your organisation wants to create a new image-building Corporate Design – whether for petrol stations, car showrooms, banks or supermarkets.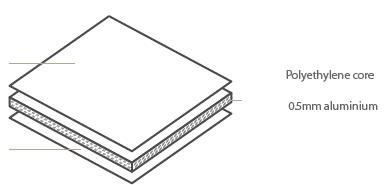 | CHARACTERISTICS | ADVANTAGES |
| --- | --- |
| Low weight, high rigidity, perfect flatness | Low cost for substructures and fasteners, Smooth handling on the site |
| Large variety of colours | Unlimited planning and design |
| Weatherproof | upplied ready to install |
| Vibration-damping | No additional sound-damping needed |
| Can easily be folded and bent | Simple processing using conventional tools |
| Large panel sizes, fast installation, pre-fabricated panels | Short construction times, adherence to schedules, low cost |

ALUCOBOND® perfectly adapts to a building's contours, flowing elements. It is the combination of formability, flatness, stability and weather resistance that characterizes this material. Due to its composite structure, ALUCOBOND® can take on many different shapes. Though both stable and flat ALUCOBOND® can be perfectly formed without any loss to its rigidity.

Lightness / Rigidity
The composite structure of ALUCOBOND® results in an impressive strength-to-weight ratio, even when comparing large panel sizes. Despite its low weight, which makes ALUCOBOND® easy to transport and handle in the factory and on site, its rigidity and high strength make the panels keep their shape and remain flat, even when exposed to extreme temperature changes.
Comparison of thickness and weight of panels with equal rigidity.

Sustainability
Environment, Safety and Quality
Today 3A Composites is recognized worldwide as one of the leading companies in the field of sustainability – in fact not only within its own branch but also among other diversified producers and raw material processing companies throughout the world. 3A Composites's commitment to sustainability enables the company to make decisions that create the highest economic, social and ecological value, by taking the requirements of all the relevant groups into consideration.
The company commits to continuous self improvement programs for environmental protection, many of which exceed government regulations. 3A Composites continues to serve as a global leader in this field.
During the life cycle of ALUCOBOND® composite panels, no substances containing CFC are set free at any time. The core material does not contain any nitrogen, chlorine or sulphur. Therefore, selecting ALUCOBOND® for projects which require environmental-friendly materials is literally a natural choice.
Life Cycle

During decades of use in a rear-ventilated cladding system, ALUCOBOND® protects the building from weathering and the harmful effects caused by industrial and environmental pollution.
An external cladding system using ALUCOBOND® acts as a barrier against solar radiation. The ventilated space between the ALUCOBOND® panels and the wall or the thermal insulation reduces the heat transmission.The rear-ventilated cladding system using ALUCOBOND®, protects the wall of the building from high and rapid temperature changes. Moisture can pass through the wall. The building structure keeps dry.
Advantages
Lower maintenance costs
Long-term preservation of the building structure
In winter: savings in heating cost
In summer: savings in air-conditioning cost
Reduction of thermal expansion
Reduction in crack formation
Recycling
ALUCOBOND® is fully recyclable, i.e. both the core material and the aluminium cover sheets are recycled and can be used in the production of new material.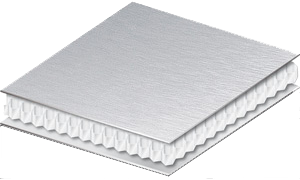 ALUCORE® is an aluminium composite panel consisting of two cover sheets and a honeycomb core of aluminium.
Following in the footsteps of the world-wide established ALUCOBOND® trademark, ALUCORE® is also a composite material for a variety of applications in transport and industry or architecture, showing excellent product properties such as extraordinary flatness, large variety of colours and high formability.
The aluminium honeycomb core gives the composite panel a high rigidity and an extremely low weight. ALUCORE® therefore provides the decisive advantage where very high demands are made on the material for applications such as façade cladding or roofing, e.g. if exposed to extremely high wind load and for large self-supporting roofs.
ALUCORE® is the first lightweight panel that you, too, will absolutely insist as being: a bond for life.