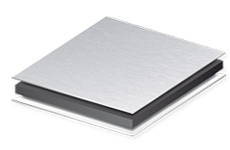 Known across the world as 'the original' ALUCOBOND® has been the market leader in aluminium composite panels since 1969.
ALUCOBOND® is known for its incredible properties, such as extraordinary flatness, a large variety of colours, and perfect formability. It has been developed to be both a rigid and flexible fascia material for architecture and is extremely weatherproof, impact-resistant, and break-proof, vibration-damping, and ensures easy and fast installation.
As a light composite material consisting of two aluminium cover sheets and a plastic core, this incredibly versatile product is also preferred in areas other than architecture – such as corporate design – and is widely used in industry and transportation.
ALUCOBOND® sold over a million sq.m of cladding material worldwide and has been awarded with numerous international prizes.