Riveting is possible using solid or blind rivets with conventional riveting tools. For exterior applications allow for thermal expansion and use a rivet attachment jig, if necessary.
ALUCOBOND® plus panels can be fastened together or joined to other materials using rivets common to aluminium constructions. For outdoor use and for use in areas of high humidity, make sure to use aluminium blind rivets with stainless steel mandrils to prevent ugly corrosive edges. When using aluminium blind rivets with steel mandrils, the mandril should drop out after riveting (detachable version).
Countersunk rivets are suitable for indoor use only.
For outdoor use please note:
Use aluminium blind rivets that have been approved for construction with a 5 mm shaft diameter and an attachment head diameter of 11 or 14 mm.
Please take the thermal expansion of the panel into account (2.4 mm/m/100°C). To avoid jamming, the hole in the panel must be large enough to allow for expansion.
With the shaft of the rivet fitting closely to the edge of the hole, the attachment head must cover over 1 mm of the area surrounding the hole.
Multi-step drills or sleeves having corresponding diameters are used for centrically drilling holes into the panel and the substructure and for centrically fitting the rivet.
Rivet attachment jigs are used for fitting blind rivets without jamming allowing for a tolerance of 0.3 mm. Make sure to use rivet attachment jigs and rivets from the same manufacturer, as the height of the attachment head according to DIN 7337 may vary.
The clamping thickness results from the thickness of the material to be riveted plus an additional value of 2 mm to ensure that the closing head is perfectly formed. In accordance with this clamping thickness the corresponding shaft length is determined in the tables provided by the rivet manufacturers. (lmin = 14 mm).
Important:
Since during riveting many factors may have an influence on the exact tolerance of the rivets of 0.3 mm (e.g. rivet head tolerance), we recommend that you make a test on a fascia panel. Please always remove the protective foil in the riveting area prior to riveting.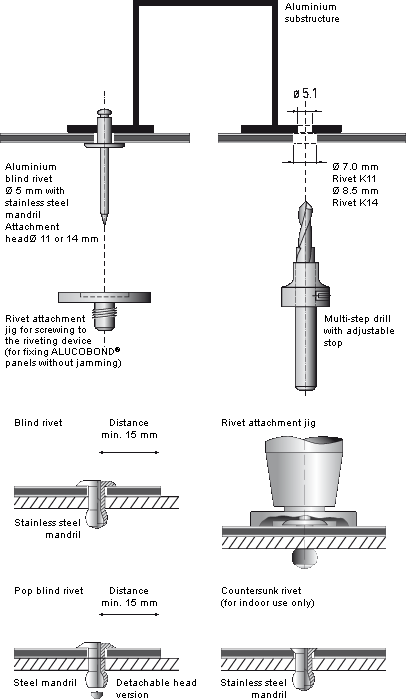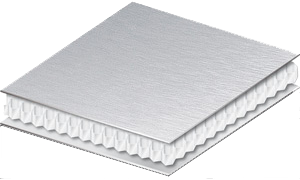 ALUCORE® is an aluminium composite panel consisting of two cover sheets and a honeycomb core of aluminium.
Following in the footsteps of the world-wide established ALUCOBOND® trademark, ALUCORE® is also a composite material for a variety of applications in transport and industry or architecture, showing excellent product properties such as extraordinary flatness, large variety of colours and high formability.
The aluminium honeycomb core gives the composite panel a high rigidity and an extremely low weight. ALUCORE® therefore provides the decisive advantage where very high demands are made on the material for applications such as façade cladding or roofing, e.g. if exposed to extremely high wind load and for large self-supporting roofs.
ALUCORE® is the first lightweight panel that you, too, will absolutely insist as being: a bond for life.