To avoid possible reflection differences (for metallic, special effect, naturAL, and spectra colours), it is recommended to install the panels in the same direction as marked on the protective peel-off-foil. Colour variations may occur between panels originating from different production batches. To ensure colour consistency, the total requirement for a project should be placed in one order.
Dimensional tolerances
Thickness
±0.2 mm
Width
-0 / +4 mm
Lengths
1000 – 4000 mm
-0 / +6 mm
Lengths
4001 – 8000 mm
-0 / +10 mm
Due to the production process, a displacement of the cover sheets of max. 2 mm to one side may occur along the longer sides of the panels if not specially trimmed.
Protective foil
To avoid residuals of glue sticking to the surface of the panels due to UV radiation, it is recommended to remove the protective foil as soon as possible after the installation.
The protective foils and the panel surfaces must not be marked using ink (marker), adhesive tapes or stickers, as the lacquered surfaces could be damaged by solvents or plasticizers.
Make sure to remove the protective foil as soon as possible after installation as weathering for a longer period could make the foil difficult to remove.
Cleaning and maintenance
The frequency of cleaning depends on the design and the degree of soiling. For further information, please refer to our brochure ALUCOBOND® Processing
PDF [4.23 MB].
Storage / Handling
Protect ALUCOBOND® plus pallets during storage against rain, penetration of moisture and condensation.
Only pallets of identical size should be stacked, with a maximum of 6 pallets stacked on top of each other.
Storage exceeding 6 months should be avoided, as it may become difficult to remove the protective foil.
When stacking the panels nothing should be placed in between them, as this could produce marks on the panels.
Recycling
ALUCOBOND® plus can be fully recycled, i.e. both the core material and the aluminium cover sheets can be recycled and used for the production of new material.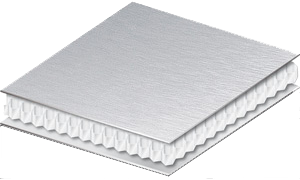 ALUCORE® is an aluminium composite panel consisting of two cover sheets and a honeycomb core of aluminium.
Following in the footsteps of the world-wide established ALUCOBOND® trademark, ALUCORE® is also a composite material for a variety of applications in transport and industry or architecture, showing excellent product properties such as extraordinary flatness, large variety of colours and high formability.
The aluminium honeycomb core gives the composite panel a high rigidity and an extremely low weight. ALUCORE® therefore provides the decisive advantage where very high demands are made on the material for applications such as façade cladding or roofing, e.g. if exposed to extremely high wind load and for large self-supporting roofs.
ALUCORE® is the first lightweight panel that you, too, will absolutely insist as being: a bond for life.