Aluminium composite material with a structured feel
ALUCOBOND® legno composite panels are real natural beauties: four different wood look finishes showcase wood at its most exclusive and a special coating adds a grainy structured feel to the surface. It makes the lively wood decors even more authentic and the wood grain pattern is not repeated, even in five-metre long panels.
ALUCOBOND® legno composite panels also display their powerful character: The flatness and flexural strength of these lightweight panels, mean ALUCOBOND® legno is ideal for numerous different facades – both in large formats or as narrow slats.
In addition, the panel's diverse processing options ensure the greatest possible architectural scope. Panels can be folded into complex and multi-dimensional shapes and given a sharp and precise geometry using routing and folding. The extreme durability and weather resistance provided byALUCOBOND® legno composite panels mean they outperform natural wood. The panels are resistant to fungus and rotting, and protected against moss growth and weathering. ALUCOBOND®legno is fully recyclable and demonstrates a high level of sustainability in the life cycle of the material.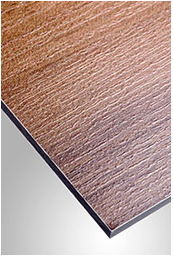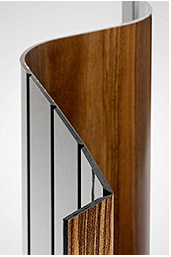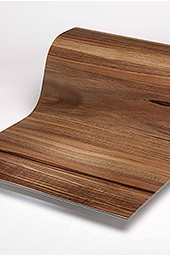 Natural, versatile, durable
We love wood. And we also love sophisticated architecture. That was our reason for developing top-quality structured ALUCOBOND® legno cladding panels, which combine all the natural beauty of wood and all the benefits of ALUCOBOND® aluminium composite panels.
ALUCOBOND® legno advantages:
low weight
fire protection class A2 (non-combustible)
excellent flatness and high flexural strength
high level of flexural strength for both complex and tight bends, and three-dimensional and amorphous curvature
versatile processing options using routing and folding techniques
large variety of panel formats from very large to very small
natural-looking, varied wood look with grainy structured feel
easy clean surface
light and UV resistance without losing colour
Resistance to fungus, moss, decay and weathering light and UV
extreme durability
complete recyclability



Colour Chart
ALUCOBOND® legno – premium wood
Download our new ALUCOBOND® legno colour charts as PDF-file.
Download as PDF [3.57 MB]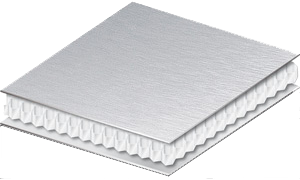 ALUCORE® is an aluminium composite panel consisting of two cover sheets and a honeycomb core of aluminium.
Following in the footsteps of the world-wide established ALUCOBOND® trademark, ALUCORE® is also a composite material for a variety of applications in transport and industry or architecture, showing excellent product properties such as extraordinary flatness, large variety of colours and high formability.
The aluminium honeycomb core gives the composite panel a high rigidity and an extremely low weight. ALUCORE® therefore provides the decisive advantage where very high demands are made on the material for applications such as façade cladding or roofing, e.g. if exposed to extremely high wind load and for large self-supporting roofs.
ALUCORE® is the first lightweight panel that you, too, will absolutely insist as being: a bond for life.