PANEL-THICKNESS:
STANDARDS
UNIT
3MM
Thickness of Aluminium Layers
[mm]
0.30
Weight
[kg/m²]
3.8
TECHNICAL PROPERTIES
STANDARDS
UNIT
3MM
Section Modulus W
DIN 53293
[cm³/m]
0.81
Rigidity (Poisson's ratio µ = 0,3) E·I
DIN 53293
[kNcm²/m]
865
Alloy
EN 573-3
EN AW-3003
Temper of Cover Sheets
EN 515
H24
Modulus of Elasticity
EN 1999 1 – 1
[N/mm²]
70,000
Tensile Strength of Aluminium
EN 485-2
[N/mm²]
Rm ≥  130
0.2% Proof Stress
EN 485-2
[N/mm²]
Rp0.2 ≥ 90 
Elongation
EN 485-2
[%]
A50 ≥ 4
Linear Thermal Expansion
EN 1999 1 – 1
2.4 mm / m at 100°C
temperature difference
CORE
STANDARDS
UNIT
3 MM
Polyethylene, Type LDPE
[g/cm³]
0.92
SURFACE
STANDARDS
UNIT
3MM
Lacquering
PVDF coating
Gloss (initial value)
ECCA T2
[%]
30 – 80 (+ 5%)
Pencil Hardness
ECCA T4
HB – F
ACOUSTICAL PROPERTIES
STANDARDS
UNIT
3MM
Sound Absorption Factor
ISO 354
0.05
Sound Transmission Loss
ISO 717-1
[dB]
24
Loss Factor
EN ISO 6721
0.0057
THERMAL
STANDARDS
UNIT
3MM
Thermal Resistance R
DIN 52612
[m²K/W]
0.0080
Heat Transition Coefficient U
DIN 4108
[W/m²K]
5.61
Temperature Resistance
[ºC]
-50…+80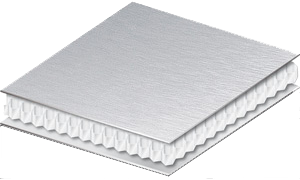 ALUCORE® is an aluminium composite panel consisting of two cover sheets and a honeycomb core of aluminium.
Following in the footsteps of the world-wide established ALUCOBOND® trademark, ALUCORE® is also a composite material for a variety of applications in transport and industry or architecture, showing excellent product properties such as extraordinary flatness, large variety of colours and high formability.
The aluminium honeycomb core gives the composite panel a high rigidity and an extremely low weight. ALUCORE® therefore provides the decisive advantage where very high demands are made on the material for applications such as façade cladding or roofing, e.g. if exposed to extremely high wind load and for large self-supporting roofs.
ALUCORE® is the first lightweight panel that you, too, will absolutely insist as being: a bond for life.