ALUCOBOND® can be cut to shape using jig saws, CNC machining centres and water jet cutting machines.
Use saw blades for wood and plastic material when using jig saws.
Cut abrasively when using a water jet cutting machine. Pre-drilling of the panels is necessary when starting.
The cut in the middle of a panel as it is not possible to drill through with the water jet.
For contour cutting on CNC machining centres use a one-edged cutter.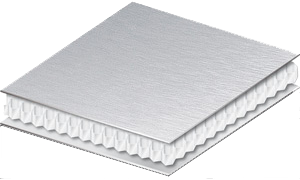 ALUCORE® is an aluminium composite panel consisting of two cover sheets and a honeycomb core of aluminium.
Following in the footsteps of the world-wide established ALUCOBOND® trademark, ALUCORE® is also a composite material for a variety of applications in transport and industry or architecture, showing excellent product properties such as extraordinary flatness, large variety of colours and high formability.
The aluminium honeycomb core gives the composite panel a high rigidity and an extremely low weight. ALUCORE® therefore provides the decisive advantage where very high demands are made on the material for applications such as façade cladding or roofing, e.g. if exposed to extremely high wind load and for large self-supporting roofs.
ALUCORE® is the first lightweight panel that you, too, will absolutely insist as being: a bond for life.