ALUCOBOND® surfaces are coated using exclusively high-quality and ecologically compatible lacquer systems.
They are highly resistant to weather conditions and unaffected by industrial emissions. These properties are achieved using UV-resistant bonding agents. For standard finishes, fluorpolymeric top coats (e.g. PVDF) are used. They are the result of a continuous development of innovative lacquer systems and vouch for the know-how and competence of 3A Composites in the field of modern lacquer technology.
All surface coats are applied in a continuous coil-coating process, i.e. with a continuous coating and stove-lacquering procedure.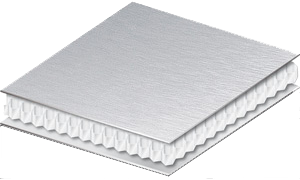 ALUCORE® is an aluminium composite panel consisting of two cover sheets and a honeycomb core of aluminium.
Following in the footsteps of the world-wide established ALUCOBOND® trademark, ALUCORE® is also a composite material for a variety of applications in transport and industry or architecture, showing excellent product properties such as extraordinary flatness, large variety of colours and high formability.
The aluminium honeycomb core gives the composite panel a high rigidity and an extremely low weight. ALUCORE® therefore provides the decisive advantage where very high demands are made on the material for applications such as façade cladding or roofing, e.g. if exposed to extremely high wind load and for large self-supporting roofs.
ALUCORE® is the first lightweight panel that you, too, will absolutely insist as being: a bond for life.