In today's architecture, the surfaces of the ALUCOBOND® anodized look series display the natural beauty of satin-smooth metal at its best. The ALUCOBOND® anodized look is used where architects focus on product high quality and appearance – for rainscreen facades, wall cladding, roof perimeter detailing, curved features, column casings, along with many other interior and exterior architectural applications.
Designed to comply with EURAS industrial standards, the surfaces perfectly well match with anodised window frames, profiles and doors – and unlike anodised materials, the ALUCOBOND® anodized look can be smoothly shaped, offering unlimited possibilities for creative ideas.
The use of a top-grade fluorpolymer coating applied in a continuous coil coating process guarantees an uncompromising realisation of the original design.
Note
We recommend that ALUCOBOND® anodized look panels are always taken from the same production batch, e.g. only one batch should be used to clad a complete building elevation. ALUCOBOND® plus panels should always be installed in the direction shown by the arrows on the protective peel-off foil.


Colour Chart
ALUCOBOND® anodized look
Download our new ALUCOBOND® anodized look as PDF-file.
Download as PDF [2.8 MB]
For exact colour matching, please request the original colour shades.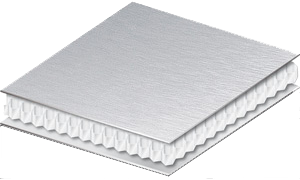 ALUCORE® is an aluminium composite panel consisting of two cover sheets and a honeycomb core of aluminium.
Following in the footsteps of the world-wide established ALUCOBOND® trademark, ALUCORE® is also a composite material for a variety of applications in transport and industry or architecture, showing excellent product properties such as extraordinary flatness, large variety of colours and high formability.
The aluminium honeycomb core gives the composite panel a high rigidity and an extremely low weight. ALUCORE® therefore provides the decisive advantage where very high demands are made on the material for applications such as façade cladding or roofing, e.g. if exposed to extremely high wind load and for large self-supporting roofs.
ALUCORE® is the first lightweight panel that you, too, will absolutely insist as being: a bond for life.