| | |
| --- | --- |
| ALUCOBOND® A2 |   Thickness: 3/4mm |
| Width (mm) | 1000 | 1250 | 1500 | 1575 | 1650 |
| --- | --- | --- | --- | --- | --- |
| Length (mm) | 2000-6800 | 2000-6800 | 2000-6800 | 2000-6800 | 2000-6800 |
| Solid Colours | — | | | — | |
| Metallic Colours | — | | | — | |
| Spectra Colours | — | | | — | — |
| NaturAL* | — | | | — | — |
| ALUCOBOND® Legno – Premium Wood | — | | | — | — |
| Anodized Look | — | | | — | — |
| ALUCOBOND® Design | — | | | — | — |
| Urban | — | | | — | — |
| Mill Finish | — | | | — | — |
Footnotes:


 on request
Dimensional Tolerances
Due to manufacturing, a displacement of the cover sheets sidewise at the panel edges up to 2 mm is possible.
Thickness: ± 0,2 mm
(mill-finish | stove lacquered | anodized)
Width: – 0 / + 4 mm
Lengths: 1000 – 4000 mm; – 0 / + 6 mm
Lengths: 4001– 8000 mm; – 0 / + 10 mm
* Anodized according to DIN 17611. All anodized ALUCOBOND® composite panels have contact lines (about 25 mm width) on their short sides. For panel lengths of more than 3500 mm, the composite panels have contact lines (about 2 – 3 mm width) on their long sides. Maximum panel length 6500 mm. Please take this into consideration when dimensioning the panels.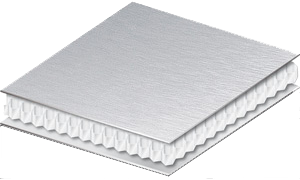 ALUCORE® is an aluminium composite panel consisting of two cover sheets and a honeycomb core of aluminium.
Following in the footsteps of the world-wide established ALUCOBOND® trademark, ALUCORE® is also a composite material for a variety of applications in transport and industry or architecture, showing excellent product properties such as extraordinary flatness, large variety of colours and high formability.
The aluminium honeycomb core gives the composite panel a high rigidity and an extremely low weight. ALUCORE® therefore provides the decisive advantage where very high demands are made on the material for applications such as façade cladding or roofing, e.g. if exposed to extremely high wind load and for large self-supporting roofs.
ALUCORE® is the first lightweight panel that you, too, will absolutely insist as being: a bond for life.