ALUCOBOND® A2 can be cut with a vertical panel saw, circular or jig saw.
Carbide tipped (CT) saw blades
Blade geometry
Tooth thickness approx. 2 – 4 mm, tapered to the inside to prevent jamming
Tooth geometry
Trapezoid tooth / flat tooth
Pitch t
10 – 12 mm
Clearance angle α
15°
Rake angle γ
10° positive
Maximum feed s
20 m/min
Important: For ALUCOBOND® A2 special carbide tipped (CT – quality K01) saw blades are used. The speed must be reduced by 50%.
Carbide tipped (CT) saw blades for HOLZ-HER and Striebig circular panel saws.
Trapezoid/flat tooth saw blade, flat teeth 45° chamfered for burr-free edges.
Saw blade-Ø
D = 300 mm (for Striebig vertical panel saw Standard II)
Number of teeth
t = 72
Speiser Code No. 070 60 651
Saw blade-Ø
D = 250 mm
(for Holz-Her vertical panel saw 1255 ALUCOBOND®)
Number of teeth
t = 60 (for cuts of up to 5 panels)
Speiser Code No. 020 40 151
Bore Ø
D = 30 mm
Tooth thickness
3.2 mm
Clearance angle α
15°
Rake angle γ
10 ° positive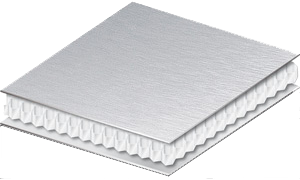 ALUCORE® is an aluminium composite panel consisting of two cover sheets and a honeycomb core of aluminium.
Following in the footsteps of the world-wide established ALUCOBOND® trademark, ALUCORE® is also a composite material for a variety of applications in transport and industry or architecture, showing excellent product properties such as extraordinary flatness, large variety of colours and high formability.
The aluminium honeycomb core gives the composite panel a high rigidity and an extremely low weight. ALUCORE® therefore provides the decisive advantage where very high demands are made on the material for applications such as façade cladding or roofing, e.g. if exposed to extremely high wind load and for large self-supporting roofs.
ALUCORE® is the first lightweight panel that you, too, will absolutely insist as being: a bond for life.