With their bright sparkling and shining effects, the special effect colours provide a particular eye-catching impression.
Special effect colours are used to accentuate design and architecture in a specific way.


For exact colour matching, please request the original colour shades.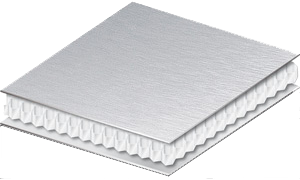 ALUCORE® is an aluminium composite panel consisting of two cover sheets and a honeycomb core of aluminium.
Following in the footsteps of the world-wide established ALUCOBOND® trademark, ALUCORE® is also a composite material for a variety of applications in transport and industry or architecture, showing excellent product properties such as extraordinary flatness, large variety of colours and high formability.
The aluminium honeycomb core gives the composite panel a high rigidity and an extremely low weight. ALUCORE® therefore provides the decisive advantage where very high demands are made on the material for applications such as façade cladding or roofing, e.g. if exposed to extremely high wind load and for large self-supporting roofs.
ALUCORE® is the first lightweight panel that you, too, will absolutely insist as being: a bond for life.