Norveg Coast Cultural Center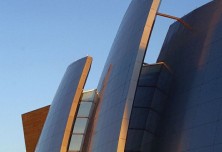 | | |
| --- | --- |
| Architect | Gudmundur Jonsson Arkitektkontor, Oslo |
| Completed | 2004 |
| Product | ALUCOBOND® |
ASSEMBLING OF A BOAT STRUCTURE ON THE NORVEGIAN COAST
Norveg Coast Cultural Centre is situated in Rørvik, a community with a long tradition of fishery, representing the utmost of the Norwegian coastal culture through ages.
Today the boat-building industry is carrying on the tradition in a modern way. Its situation on the coast embodies a challenge in bringing the visitors to the location, thus ensuring economic stability in the establishment of the centre. Therefore the architect declared, that a building of significance was needed to ensure attention to this community.
The architect put himself back into the ancient times of fishery and used the culture for inspiration to create the vision. Thus his idea is based on the image of 3 sails leaning against a modern vessel, and by this way bringing together the sailing-boat tradition and the modern ships. The building turns out to be an evolution of a coast-cultural history visualized in architecture. The building even consists of an after-deck or a hind part to complete the interpretation of the ship-inheritance.
The organization follows the architectural elements. The main central vessel or hull as the spine of the building housing the administration, kitchen and technical plants. The sails covering the foyer, restaurant and temporary exhibition. The big rock on the other side symbolizing the shore the ship is docking to, containing the multimedia and concert / auditorium space. At lastthe after-deck containing the coast-cultural exhibition also designed by the same Architect.
The climate by the sea requires special care in the choice of materials. Therefore, the use ofALUCOBOND® for the sails was the right choice because of its durability. The main ship was cast in concrete, with visual horizontal planks simulating a wooden hull, and the after-deck walls are covered with timber boards specially impregnated to make it look like the old wooden boats. The building has already managed to draw great interest from outside Rørvik and the northern part of Norway, but most important, it has already inspired optimism in the Community, creating other investments, and leading to other buildings and to enthusiasm in the society to look into the future. In its small scale it has created a kind of a Bilbao effect for a community of 10 000 inhabitants and is still carrying on its mission as an architectural symbol of history in evolution. The building was nominated for the European Union Mies van der Rohe Award 2005. The primary objective of the prize is to recognize and comment works of contemporary architecture that are characterized by special conceptual, aesthetical and technical solutions.