Individual Façade Design
The headquarters of the German production site are located in the area of Heilbronn. Since more than 30 years, the company is specialised in processing of aluminum composite panels. The long experience of the company is also represented in the ...
December 26, 2013 | Industry (Architecture)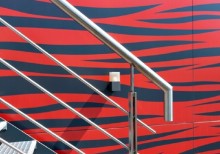 Lizard Cloud – HTWK Leipzig – Architecture.Research.Pavillon.2013 at Designer's Open Leipzig
Periphery
Digital data and information processing are changing social and economic structures and realtions in a steadily accelerating manner for the last decades. The batch production process from design to the finished product within ...
December 25, 2013 | Industry (Architecture)