Märkisches Zentrum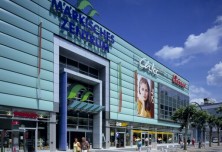 | | |
| --- | --- |
| Architect | Alexander Kolbe, Berlin Schraml & Partner, Berlin |
| Completed | 2002 |
| Product | ALUCOBOND® A2 |
THE TRANSFORMATION OF A MALL
Germany's urban areas developed during the post-war years look sterile and received many critics for their lack in providing a living environment. The same applied to the 'Märkische Viertel', a suburban township in the North-East of former West-Berlin. After the renovation of the 'Märkische Zentrum', one of the first shopping malls in Germany opened in 1967, the 40,000 inhabitants are now enjoying the diversified infrastructure.
Major modifications were necessary and in 1997 the area was enlarged from 50,000 to 65,000 m². Bigger display windows and a canopy over the central passage changed the whole appearance of the complex. The new atrium with its silver metallic and grey metallic ALUCOBOND® cladding now attracts many visitors. A unique cladding design made of folded tray panels create horizontal strips flowing seamless into the atrium. Interior and exterior merge smoothly together.
For the main building, ALUCOBOND® panels painted in a special patina green metallic colour were vertically curved to a radius of 2. 8 m and along their edges folded into tray panels (system SZ20). This creates the impression of large copper scales, but without incurring the high cost usually associated with such material. The attractive design of the revamped shopping mall has drawn an increasing number of visitors and the operator benefits from the low maintenance cost of the exterior cladding.