ALUCOBOND® A2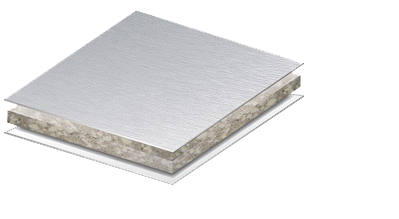 ALUCOBOND® A2 is the first non-combustible aluminium composite panel used in architecture that fulfils the respective standards worldwide.
Thanks to its mineral core, ALUCOBOND® A2 meets the strict requirements of some
of the toughest fire regulations while retaining the possibilities for the concept and design of buildings. ALUCOBOND® A2, just like all the products of the ALUCOBOND® family, allows simple processing, is impact-resistant, breakproof and weatherproof
and, above all, non-combustible.
Technical Data Sheet
| THICKNESS | | STANDARDS | UNIT | 3MM | 4MM |
| --- | --- | --- | --- | --- | --- |
| Thickness of Aluminium Layers | | | 0.5 | 0.5 | |
| Weight | | | [kg/m²] | 5.9 | 7.6 |
| Width | | | [mm] | 1250 / 1500 | 1250 / 1500 |
| TECHNICAL PROPERTIES | | STANDARDS | UNIT | 3MM | 4MM |
| --- | --- | --- | --- | --- | --- |
| Section modulus | W | DIN 53293 | [cm³/m] | 1.25 | 1.75 |
| Rigidity | E·J | DIN 53293 | [kNcm²/m] | 1250 | 2400 |
| Alloy / Temper of Aluminium Layers | | EN 573-3 / EN 515 | | EN AW 5005A (AIMg1) H22/H42 | EN AW 5005A (AIMg1) H22/H42 |
| Modulus of Elasticity | | EN 1999 1-1 | [N/mm²] | 70.000 | 70.000 |
| Tensile Strength of Aluminium | | EN 485-2 | [N/mm²] | Rm ≥ 130 | Rm ≥ 130 |
| 0.2 % Proof Stress | | EN 485-2 | [N/mm²] | Rp0,2 ≥ 90 | Rp0,2 ≥ 90 |
| Elongation | | EN 485-2 | [%] | A50 ≥ 5 | A50 ≥ 5 |
| Linear Thermal Expansion | | EN 1999 1-1 | | 2.4 mm/m at 100ºC temperature difference | 2.4 mm/m at 100ºC temperature difference |
| CORE | | STANDARDS | UNIT | 3MM | 4MM |
| --- | --- | --- | --- | --- | --- |
| Mineral compound, polymer bonded | | | | | |
| SURFACE | | STANDARDS | UNIT | 3MM | 4MM |
| --- | --- | --- | --- | --- | --- |
| Lacquering | | | | Coil Coating Fluorocarbon based (e.g. PVDF) | Coil Coating Fluorocarbon based (e.g. PVDF) |
| Gloss (initial value) | | EN 13523-2 | [%] | 30-80 | 30-80 |
| Pencil Hardness | | EN 13523-4 | | HB-F | HB-F |
| ACOUSTICAL PROPERTIES | | STANDARDS | UNIT | 3MM | 4MM |
| --- | --- | --- | --- | --- | --- |
| Sound Absorption Factor | αs | ISO 354 | | 0.5 | 0.5 |
| Sound Transmission Loss | Rw | ISO/DIS 717-1, EN ISO 140-3 | [dB] | 27 | 27 |
| Loss Factor | d | EN ISO 6721 Frequency range 100-3200 Hz | | 0.004 | 0.005 |
| THERMAL | | STANDARDS | UNIT | 3MM | 4MM |
| --- | --- | --- | --- | --- | --- |
| Thermal Resistance | R | DIN 52612 | [m²K/W] | 0.002 | 0.002 |
| Thermal conductivity | λ | DIN 52612 | [W/mK] | 1.99 | 1.77 |
| Heat Transition Coefficient | U | DIN 52612 | [W/m²K] | 5.83 | 5.80 |
| Temperature Resistance | | | [ºC] | -50 to +80 | -50 to +80 |
Fire Classification
Country
Test accord.to
Classification
Australia
AS ISO 9705

AS 1530.3 Indices


EN 13501-1

Group 1 material

SMOGR A 0.630 m2 / s2

0 (ignitibility)

0 (flame spread)

0 (heat evolved)

0-1 (smoke development)

A2-s1, d0

China
GB 8624-2012
Class A (A2- s1,d0, t0)
EU
EN 13501-1
Class A2-s1, d0
Germany
EN 1187 (method 1) /

DIN 4102-7

Passed
Great Britain

England /

Wales /

Scotland

BR 135

BS 8414 part 1 & 2

met the performance criteria

Passed

Malaysia
BS 8414-1

BS 476, Part 6

BS 476, Part 7

Approved for outdoor wall cladding of any type of building without height limit

Passed

Class 0

Class 1

Poland
EN 13501-1

BS 476, Part 6&7 (Core Exposed)

NFPA 285

Approved for outdoor wall cladding of any type of building without height limit

Class A2-s1, d0
Russia
GOST 30244-94

GOST 30402-95

GOST 12.1.044-89

GOST 12.1.044-89

G1 (combustibility)

W1 (flammability)

D1 (smoke development)

T1 (toxicity)

Singapore
EN 13501-1
BS 476, Part 6&7 (Core Exposed)
NFPA 285
Approved for outdoor wall cladding of
any type of building without height limit

Class A2, s1, d0
Passed
Passed

Switzerland
VKF
RF1
UAE
NFPA 285
EN 13501-1
ASTM E84
Passed
Class A2-s1, d0
Class A