Gold Land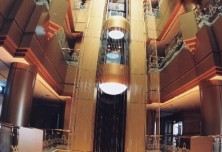 | | |
| --- | --- |
| Architect | Eng. Adnan Saffarini, Dubai |
| Completed | 1999 |
| Product | ALUCOBOND® |
GOLD LAND IN THE CITY OF GOLD
The Gold Land Building stands as a prestigious landmark of Dubai – the City of Gold. The building signifies the world-renowned status of Dubai as the world's largest Gold market. The project has been aesthetically designed by Eng. Adnan Saffarini, a famous local architect. The building blends the local flavor of architecture with modern construction processes and materials. The exterior of the building is accented with Islamic style lines and arches. The design of traditional wind towers, called Badgir is used to complete the look. The exterior has been given the gold look with 2,500 m² of ALUCOBOND®cladding material in 22-carat gold color. The color choice has been prudently made, not just keeping in mind the theme of gold, but also because this color signifies the color of desert sand, and thus to highlight the natural geography of Dubai.
The interior of Gold Land has also been designed to live up to the charm of the exterior. Replete with columns, atrium and skylights, the interior continues the gold theme by the use of ALUCOBOND® cladding material in 24-carat gold color. The interior also carries the antique look, and the overall feel of the place is very much like a souk (local marketplace). Fifty columns of 1 m diameter and 3 m height have been cladded with Granite and ALUCOBOND® material in the basement plus four-stories. The atrium structure with ALUCOBOND® cladding material gives the interior a feeling of openness and space. Additional aesthetic touch has been added by the construction of ALUCOBOND®-clad flower boxes around the balconies of the atrium. The ground floor is reserved for jewelry retail shops while the upper floors are meant for Gold wholesale business.
Overall, 6,000 m² of ALUCOBOND® material has been used in the entire project. The project constructors chose this material for its high functional quality as well as aesthetic look.