Georgia Aquarium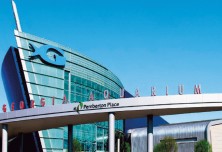 | | |
| --- | --- |
| Architect | Thompson, Ventulett, Stainback & Associates |
| Completed | 2005 |
| Product | ALUCOBOND® |
GEORGIA AQUARIUM – MAN'S RELATIONSHIP WITH WORLD'S OCEANS
With 8 million gallons of marine and fresh water and more than 100 000 animals, the Georgia Aquarium was opened in Atlanta, Georgia, in November 2005 as the world's largest aquarium.
Key to the design of the Georgia Aquarium is "architecture meant to reflect the relationship between mankind and the world's oceans," according to a highlight statement by Atlanta-based Thompson, Ventulett, Stainback & Associates (TVS) regarding its architectural design.
The unique metal-and-glass exterior profile of the aquarium, designed in the abstracted shape of an ark, is sited to allow its lanterned ship's hull to be highly visible from Centennial Park in downtown Atlanta, according to TVS. To help achieve this look, approximately 50 000 square feet of ALUCOBOND® andALUCOBOND® PLUS Material in Platinum, Silver Metallic and a custom Blue Metallic were installed as exterior cladding.
Visitors disembark this imaginary seaworthy craft by entering the aquarium under the ship's bow. There they encounter a TVS-described "world without walls," featuring five underwater-themed exhibits designed to "stimulate the imagination, reflecting what the world's oceans mean to mankind."
The mission of the Georgia Aquarium is to be an entertaining, educational and scientific institution featuring exhibitions and programs of the highest standards, offering engaging and entertaining visitors' experiences, and promoting the conservation of aquatic biodiversity throughout the world.