Dachaufbau Mattenstrasse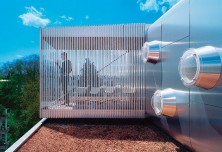 | | |
| --- | --- |
| Architect | Sollberger Bögli Architekten AG, Biel, Schweiz |
| Completed | 2004 |
| Product | ALUCOBOND® |
A SOLITAIRE ON THE ROOF
Today the former factory building Mattenstrasse 90 in Biel (Switzerland) is used by several trade and service companies. The request for more floor space by the agency erdmannpeisker was achieved through an additional level built on top of the main building.
The new structure is recessed away from the edge of the pre-existing roof. The rounded edges and the uniform cladding of roof and façade with ALUCOBOND® in mill-finish confer the impression of a temporary structure. However, the two cantilevered gazebos visually reassure the viewer that the new structure is firmly anchored in place.
The interior design is completely white and the structure uses expansive sheets of glass. Both design elements serve to blend the tenant's environment into the surrounding town of Biel and the nearby Jura Mountains.
Ironically, the building's function is vitally important, but its design is subtle and transparent, almost hidden.