Aluminium Centrum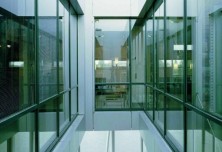 | | |
| --- | --- |
| Architect | Architectenbureau Micha de Haas, Amsterdam |
| Completed | 2001 |
| Product | ALUCOBOND® |
THE ALUMINIUM FOREST
In November 2001, the Dutch Minister of Economic Affairs opened the Aluminium Centrum in Houten, the Netherlands, a unique aluminium building. The Aluminium Centrum is the umbrella organisation for the Dutch aluminium industry. The primary function of the information centre is to display aluminium products. The building is clad in one colour of material, symbolising the strength of aluminium as a high-tech, industrial, and an environmentally aware product.
The remarkable architecture and innovative technology give the building an extraordinary character. The design is from Micha de Haas, winner of the contest, in which 64 architects participated. Inspired by the typical Dutch poplar-strewn landscape, the architect placed the building on 368 aluminium columns to accentuate the lightness and strength of aluminium. He calls it 'the aluminium forest'. The lightweight treetops, which are raised 6 meters above the ground and form the actual office building, resemble an aluminium casting. The windows are placed irregularly as deep incisions in the aluminium casting.
The architectural design of the office building originally consisted of 600 mm wide aluminium panels, all in one piece with a good surface flatness, straightness and rigidity.
Alcan Nederland worked with the architect right from the beginning of the project. With over 30 years of experience with ALUCOBOND® systems, they proposed to use ALUCOBOND® tray panels suspended on aluminium bolts using aluminium U-profiles for the façade. Alcan Nederland engineered the detailing of the façade, and fabricated the ALUCOBOND® panels and aluminium substructure profiles. Panel dimensions were optimised, and 1150 mm wide ALUCOBOND® tray panels were applied. By increasing the width of the panels it reduced the number needed, thus reducing production costs, while enhancing the building with a more robust look. The panels were partly fabricated on site; after hanging flat unfinished tray panels on the U-profiles, the parapet return and the lower cladding end were folded into one piece, which resulted in reduced volume of material to be shipped, and a reduction in transportation costs.
Special details were used for the window sill cover. The drainage runs through the aluminium profiles of the support system, which results in less pollution of the façade itself, reducing the total cost of construction.
For the 225 mm deep window jamb, 25 mm wide panels were applied. These panels were hooked on the U-profile substructure and clamped on a special ALUCOBOND® profile mounted to the window styles. This guaranteed continuous drainage through the U-profiles, and did not disturb the vertical-lined architectural design. The Silver metallic ALUCOBOND® strengthens the aluminium appearance of this building and guarantees long-lasting quality. Everybody who is interested in modern innovative architecture should visit this remarkable project, for which the architect got the Dedalo-Minosse International Prize 2003/2004 (under -40s). Also the design has won the European award for architecture and technology.